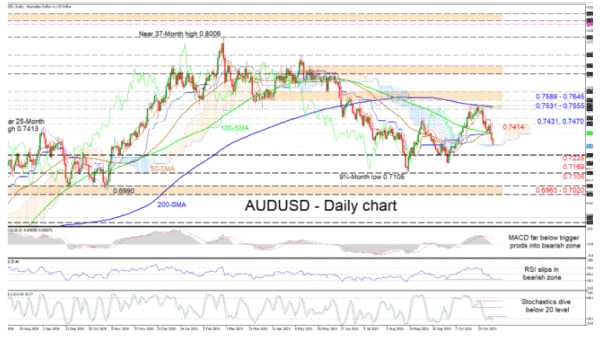 AUDUSD decline hangs on Ichimoku cloud
AUDUSD sellers managed to take control of the pair two days ago and successfully push the price below the 50 and 100 day Simple Moving Average (SMA). The bears are currently trying to extend this recent price drop below the Ichimoku cloud, around the 0.7283 level. The 200-day SMA aimed slightly lower, showing the downward price preference, while the negative roll of the 100-day SMA and the deviation of it by the 50-day SMA together suggests that the bullish push is n is not large enough to overwhelm the negative trend.
Short-term oscillators are biased downward. The MACD has moved away below its red trigger line and has just broken below the zero level, as the RSI falls into bearish territory. The strong negative charge exhibited in the Stochastic Oscillator favors further negative price action.
If the sellers manage to stay in control and push the price down below the Ichimoku cloud at 0.7283, then bearish limits could appear from the barrier of 0.7225 and the low near 0.7169. If the decline takes on further downward momentum, the 9½ month low of August 20 may become evident. If bearish forces continue to dominate, the next support could develop in the 0.6963 to 0.7020 region.
However, if the cloud removes negative powers and buyers find positive traction, the merged 50 and 100 day SMAs at 0.7370 may be the first frontier for buyers to overcome. Pushing higher, Ichimoku's converging lines could delay testing higher highs near 0.7431 and 0.7470. Overcoming these hurdles, the buyers could then propel the price to challenge the resistance cap of 0.7531-0.7555, reinforced by the 200-day SMA. Successfully reviving the bullish momentum would then draw traders' attention to the resistance barricade at 0.7589-0.7645.
In summary, the AUDUSD is showing a strong bearish tone below the SMAs and the 0.7431 high. A decline below 0.6963-0.7020 support would be needed to definitely strengthen negative trends. Still, a jump above the 0.7589-0.7645 limit is essential to strengthen the bullish bias.